Vending has been around much longer than you might think! In 215BC, the Greek mathematician Hero invented a machine to vend holy water in Egyptian Temples. (ref Automatic Vending Association)
The first ever coin-operated vending machine appeared in London in the 1800's and dispensed post cards. In 1888 the first gumball vendors were introduced in the elevated subways of New York by the Thomas Adams Gum Company. Variations were added through the years including animated characters to attract attention.
These early forms of vending eventually paved the way to the almost unfathomable range and variety of vending machines and products that is available today. The question applies then of whether vending is a tired concept or if there is a future for vending both as a convenience retail and as a business concept.
The simple answer to this is a resounding yes! In this age of non-stop cities, instant information at our finger tips and an ever increasing demand for convenience and on-the-go purchases, it would seem that vending has never been more appropriate. Where vending has evolved is the choice of products and the method of dispensing them.
There are in the region of 6 billion general items being vended in the UK per year. This is all culminated in a person to machine ratio of 1:139!
England seems perhaps a little behind Japan and the United States (machine to person ratios of 1:23 and 1:55 respectively) where it would appear that every type of vending is available from underwear to cars, from jewellery to oxygen to live crabs! In parts of Japan, you could even find yourself being followed down the street by a mobile vending machine, making the impulse purchase even more convenient! Europe isn't too far behind however and in some cases, the queue at the shop seems to be a less-frequent event where instant, automated sale and payment is more available. In the UK, refreshment vending alone in terms of market turnover is worth approximately £1.85bn per annum, through nearly half a million machines nationwide.
With all of this new technology and range of choice (which of course comes at a cost to both the operator and to the customer), let's not overlook the enduring popularity of the fun and more recognisable coin operated equipment such as tower vendors. These simple machines are still proving their worth by providing operators to tap into a lucrative market by bringing a simple and accessible option to environments where the high-tech and expensive equipment just wouldn't be practical.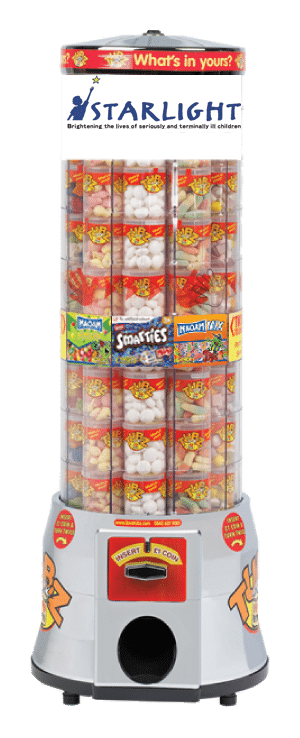 So vending today encompasses every degree of the spectrum from the simple mechanical vendors inspired by the Thomas Adams Gum-type units to high-end electronic machines that use the latest technology such as touch-screen selection and swipe cards. It is important to note that refreshment vending in the UK represents the largest share of the vending market and that share is on the rise: in 2012, refreshment vending accounted for 84.9% of the total vending market, compared with 78.5% in 2008. In a recent review of the Research and Markets Report 2013, businesswire.com highlighted that between 2013 and 2017, that market is expected to grow by 6.1%.
As a species, we are naturally programmed to seek simple solutions to everyday problems and that includes making refreshments and other high-consumer goods more readily and easily available. This logically suggests that vending will continue to be at least part of the solution for this demand for instant reward and acquisition. As a business person or someone seeking to secure a future in vending, the key is identifying where the potential market growth remains the strongest now and where the future is set to take it. One thing is for sure though: while technology can and will change, it is often a combination of the most common consumer need and the least complicated solution that will offer the best business opportunities for you, the vendor.
Acknowledgments:
Automatic Vending Association
Theguardian.com
Businesswire.com