Testimonials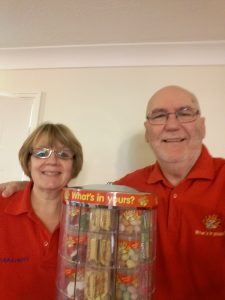 We were looking to invest in a business that we could run from home with flexible hours to suit us but at the same time be able to expand the business over time with minimum effort. We searched the internet for a franchise opportunity and Tubz very quickly became the obvious choice for us.  After our initial contact with Tubz we soon set up a visit to their headquarters in Sittingbourne, the meeting with Paul was beneficial and the answers to our questions were very positive and left us with no doubt that a Tubz franchise was for us .With low cost start up and no monthly management fees we decided to give it a go.
In April we placed an order for 25 units and the sites soon started to come through. We have a wide variety of sites including pubs, social clubs, leisure centres, shopping malls, children's play centres, civic centres etc. A couple of sites were not producing the level of sales needed and these have now been re-sited elsewhere. The key is to monitor sales of each product and swop out a line of sweets that don't sell well in a particular site. We will soon be ready to order our next batch of towers and are looking forward to expanding our sales. If you are looking for the chance to have your own business with flexible hours to suit then Tubz could be the right choice for you.
Lesley & John Johnstone
My partner and I were looking for a small business in 2015 which would be both enjoyable and easily controlled to fit in with family circumstances. We hit on the idea of Tubz and decided to purchase a 25 tower bundle to see if it worked. We were not disappointed as Tubz sourced us some good sites fairly quickly.
Now over a year later we have close on one hundred towers with a mix of toy, sweet and Pringle machines in a variety of outlets ranging from pubs and social clubs to sports venues and child play centres & cafes some sourced by Tubz and some by ourselves.
We both believe if you put in the effort and determination  this will work for you backed by the knowledge and sound advice from the company. Paul Somerset our accounts manager has always been on the end of the phone and given us the support that has put us where we are today.
Together we only work approximately sixteen hours per week and although we live in Torquay which plays host to a large number of holiday makers we actually have a lot of sites which perform better in winter than in summer.
Joining Tubz was one of the best decisions we made and having a large percentage of towers which contribute to the Starlight Charity makes it even more worthwhile.
Nick and Diane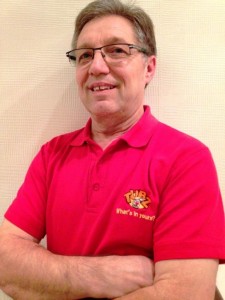 I was looking for a change of direction after running my own electrical business for 25+ years. I searched on the internet for ideas and Tubz came out on top!  The start-up costs were low and it seemed flexible.  Right from my first enquiry I found Tubz to be helpful and supportive.  I was invited to Head Office in Kent to see how everything worked.  I was immediately made to feel welcome – and even picked up from the train station!
After a good look around, Paul Somerset, my Account Manager, went through everything with me.  There was no pressure to sign up and part with my money there and then!  I made the decision to start off with 10 machines to see if I was happy with everything – I now have 52 machines which suits my work life balance just right at the moment. Sales were not my thing but fortunately Tubz found all the sites for me as part of the package so this has not been a problem.
Paul has been there at the end of the phone whenever I have needed advice or support.  Ordering stock is quick and easy and deliveries reliable and the whole setting up process was really easy and well managed.  I'm hoping in future to expand this to be a family business.  If you are looking for your own flexible business – large or small – I would recommend.  Plus it raises money for Starlight Children's Foundation which is a bonus!
David Rose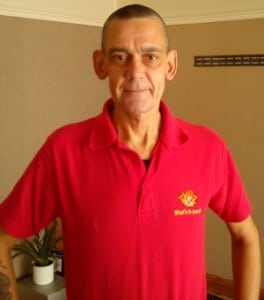 Hello Just a few words from regarding my experience so far with the Tubz Brand
Im Nigel Pearce, from North Shropshire, about 16 months ago after 18 years in the food retail sector I was faced with redundancy, so I decided it was time for a change in my life and so after some long hard searching over different ideas/business models I phoned Tubz to discuss its operation.
From the first phone call I felt at ease there was no pressure to commit and every question I had was answered with professional commitment. After talking to other existing operators I started out with a 25 confectionary tower bundle at the end of Nov 2012, within days the stock arrived and the sites started coming through, daily phone calls from Tubz to sense check how my day had gone and once again any issues were dealt with although I must say they were few.
I really enjoy lifestyle now and working alongside Tubz Team, in Jan 2013 I invested in a further 50 Units to build my business up, once again it was effortless everything arrived on time the units were all sited and installed within weeks and I knew I had made the right choice by joining the Tubz Brand.
My sites have become family now with great communication between all and I have a lifestyle that suits me working when I want.
To top it all I really enjoy the fact that with it all I am helping out with charity fund raising which is a great result for all involved.
So what next for me the intention is to continue to drive my existing sites sales with the new products that keep coming along from Tubz and I am confident enough to say I will look at further investment in more towers next year.
Nigel Pearce
We are a family of 3 generations building a tubz business.
It all started in March 2014 when I was looking for a second income. Being a single parent at the time it needed to be flexible and child friendly. I talked it over with my brother, who was also thinking about looking into finding a second income. We are all fulltime taxi drivers, and we liked the tubz business because we can build it in our spare time, alongside our existing jobs.
We bought a bundle of 10 towers in March 2014, to try out the franchise and ensure tubz was all it claimed to be.
The 10 machines were quickly installed in local sites. My dad then decided to come on board too. We have bought 3 bundles this year so far and have 70 machines now. We're looking to buy another bundle of 50 very soon.
We're looking forward to a future where tubz will be our only source of income, while enjoying the challenge of building our business.