Franchisees Lesley and Chris are leaving previous business to focus on Tubz because it's easier to run and brings higher earnings.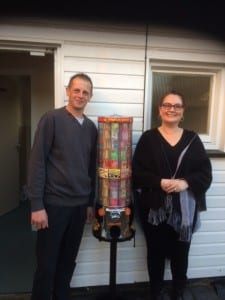 How did you get started?
Tubz: Before you decided to invest in Tubz, what were you looking for?
Lesley: We were moving and wanted something that was a not-too-difficult business model. Something my husband could take on as his job, really.
T: Is it the two of you running the business?
L: Yes. It's mainly my husband Chris who does the majority of it now.
T: Did you look at any other options when you were looking for franchise opportunities?
L: I already have a franchise business so I'm familiar with franchising. I made enquiries for other franchises that are advertised but I contacted Tubz and gave it my due diligence before I came to a decision.
T: What's the other kind of business?
L: It's a home-tutoring business.
T: Have you been franchising for a while?
L: I've had my business for about 6 years now. We started with Tubz in September last year.
How did the setup go?
T: How many machines did you get to begin with?
L: We started off with 15 to try it out but then we got another 15. That was in the London area, where we were living at the time. We branded the business and purchased 200 machines to build up a business. We've installed about 100 and we're in the process of installing the second hundred now.
T: Did the set-up process with Tubz meet your expectations?
L: Compared to the franchise business that I already have, Tubz is very much easier. You start hitting the floor running and you haven't got to keep paying out costs for marketing. Once you've paid for your machines, your sites chosen, you install them and your business is running.
How easy is the business to run?
T: How much of your time does it take up?
L: With the 200, that's a five day a week job, Monday to Friday. You can work reasonable, comfortable hours quite easily.
T: Have you found the sites yourself or let Tubz do that?
L: They do that, that's all part of the terms. They find your first sites for you.
T: How have you found working with the team at Tubz?
L: They're great, very friendly.
What next?
T: What are your aims with Tubz? Will you continue to expand?
L: Yes. I'm trying to sell my business so that we can expand the Tubz business. The plan is to expand it to 400 units and then I will also work in the business with my husband?
T: Is that because it's an easy business to run?
L: Yes. The earnings are more than what I'm getting out of my own business too.
T: What kind of annual turnover are you getting?
L: It varies. Obviously you're depending on your sites. You've got to be a bit strategic and look at which ones are performing well, which ones aren't. The ones that are not performing, you relocate and optimise your turnover.
T: Will the two of you be able to comfortably manage 400 machines when you expand?
L:Yes, two people can manage that. It's a nice business to run part time alongside a job if you want the extra income. If you want to run a family business, it's ideal.
To read Lesley and Chris' testimonials and others from happy Tubz Brands franchisees, simply click here.